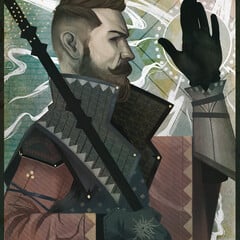 Matt DeMino
Freelance Illustrator
San Antonio, United States
Summary
I have an Associate Degree in Illustration Design and a real interest in the future of digital arts. I feel at home making art, just as I do in a wide array of games and stories. I spent my youth drawing, sketching and playing games! Drawing comes naturally for me so I work to take my talent to the next level!
I have extensive knowledge of Adobe products, with an expertise in Photoshop. I have fused my traditional skills with my digital skills to create amazing designs. I have proficiency with a multitude of devices and software that help bring to life the most basic of ideas.
I have a good eye for detail and a wide range of styles, something I picked up from all the things that influence me. I notice even the smallest aspects of designs. I also have the ability to suggest new ideas and to present these ideas to the clients. I have great decision making and analytical skills along with the ability to stay calm and maintain a friendly attitude even when working in very stressful environments.
Skills
Creative - Pulls from a lifelong artistic library with interesting design ideas in a detailed and believable way ensuring cohesive world and story building.
Problem-solving - Able to tackle any problem head-on with new and creative ideas with insightful reasoning and in a timely manner.
Organized - Able to create and manage a large amount of work in a structured and readable way for team members to work from.
Team Player - Excellent communication skills, ability to receive and grow with constructive criticism.
Skills
Concept Art
Digital Painting
Illustration
Painting
Experience
Card and Cover art for "Everyone Loves a Parade!" at Calliope Games

Cover art and card illustrations. Individual images for various parade themed objects and people, 9 groups of people.

Art Director: Andrew Hepworth

Commissioned Art at Nickelodeon

Commissioned TMNT painting - "The Runaway"

Art Director: Jonathan Zelenak


Commissioned Web Tutorial at 3d Total

December 2017 - December 2017

Commissioned 2d Web tutorial

Commissioned Art at Nickelodeon

November 2017 - November 2017

Commissioned TMNT painting - Thanksgiving

Art Director: Jonathan Zelenak

Card Designer at Albino Dragon

Austin , United States of America

January 2016 - March 2016

designed and Illustrated ALIEN themed poker deck, gaff cards and box

Character Artist / Animator at Mytoons

San Antonio, United States of America

January 2007 - January 2009

Head of multiple divisions including animation and character design.

Created several animations for commercials, contests, and off-site advertising.

Designed storyboards, concept art, composed keyframes, and headed up tweening for 2D projects